Hey there, fresh new faces! Is this your first time using paintchat? Need some help on how to use it? Look no further!
Here is a guide on how to use paintchat, from tools and tricks to rules and technical solutions!
NOTE: This tutorial is UNDER CONSTRUCTION! This note will be removed upon its completion.
-----
- Tools + testing
- Rules
- Etiquette ( space usage/size/rping )
- Saving work ( programms )
- Moderators
- Spam + reporting
Technicals--
-jtablet
-Java issues
-Penflicks
-----
1. TOOLS + TESTING
First off, make sure you have installed Java. Most applets including paintchat require Java in order to run.
You can download it here.This is what the paintchat looks like: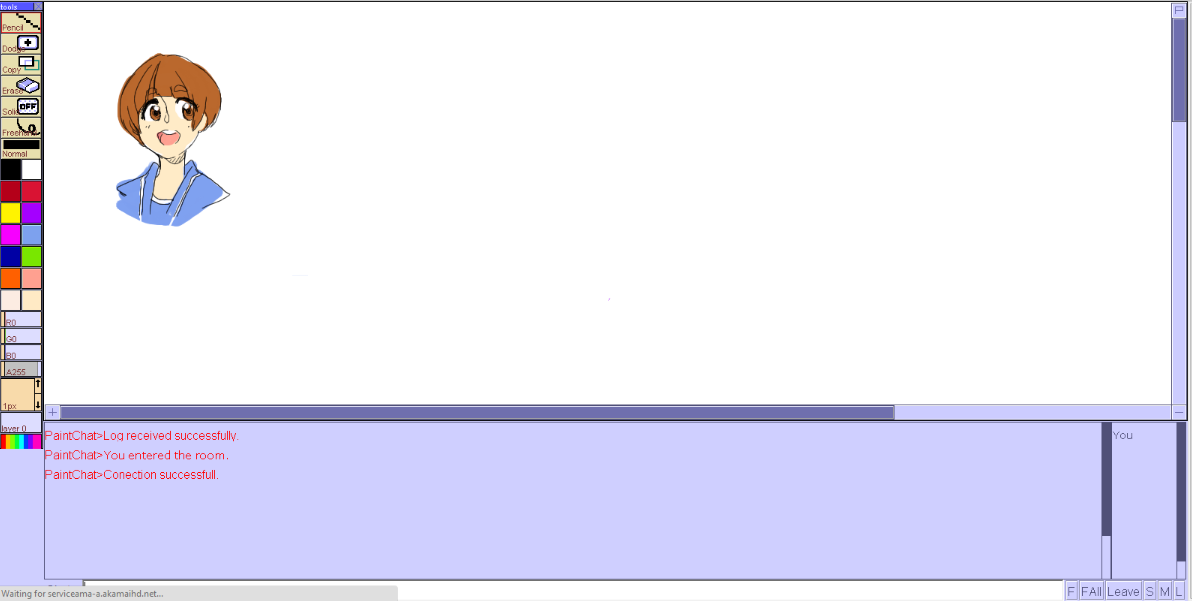 In order to draw, you must make sure the Log has received.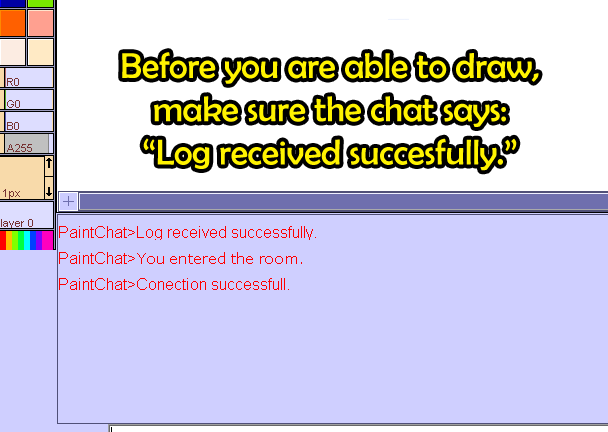 If you don't see this message, refresh the page and wait for the log again.
Here is where the main tools are! It consists of different Brushes, Erasers, Textures, and Copying Tools, Sizes, Opacity, and Colors!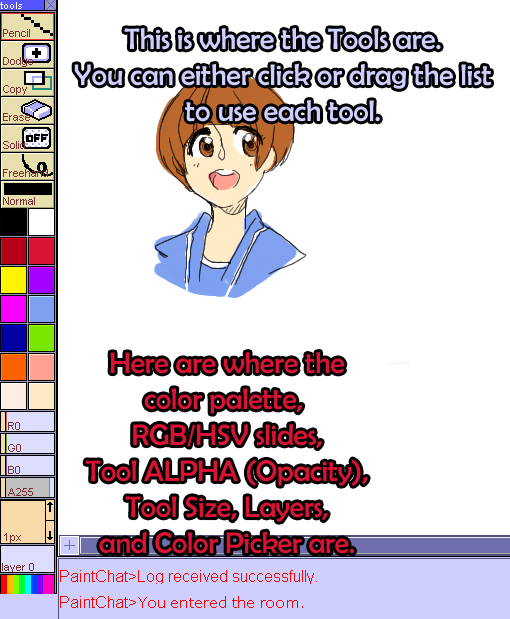 To select a Tool, either click and drag the tool bar or continue to keep clicking until you have the right one: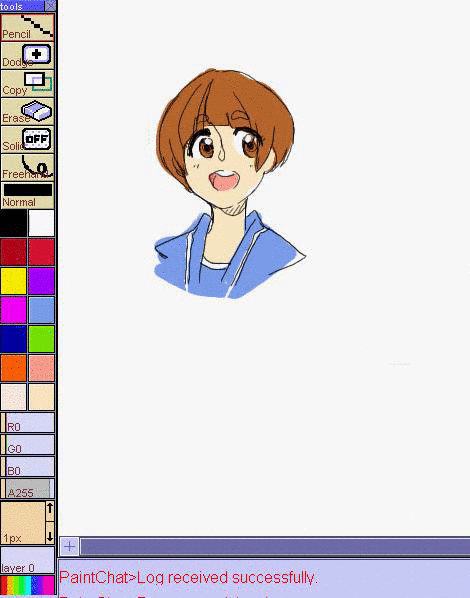 Here we have the Layers! Click the "Layer" tab to open them up.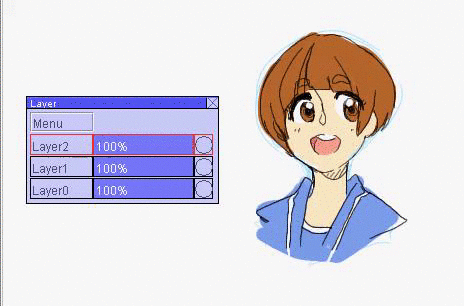 As you see, there are three layers: 0 at the bottom, 1 in the middle, and 2 at the top. Use layers in order to utilize sketching, inking, and coloring--or to keep from erasing other people's replies in Roleplaying! You can also slide the Opacity of each layer to see what's underneath or for a layered effect.
Next, we have the Size Slide and Color Slides!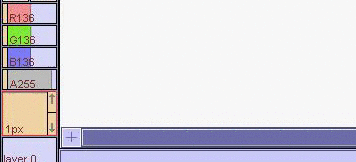 To change the size of your Tool, drag the Size Slide (XX"px") to the desired size.
For changing the colors of a pallette, click on a color and slide the RGB/HSB slides to change it.
RGB: Red/Green/Blue; HSB: Hue (Color), Saturation (Boldness), Black (Value/Shade)
These are the different Brushes you can use on paintchat: Pencil, Water, Airbrush, Pen, EPen, Mosaic.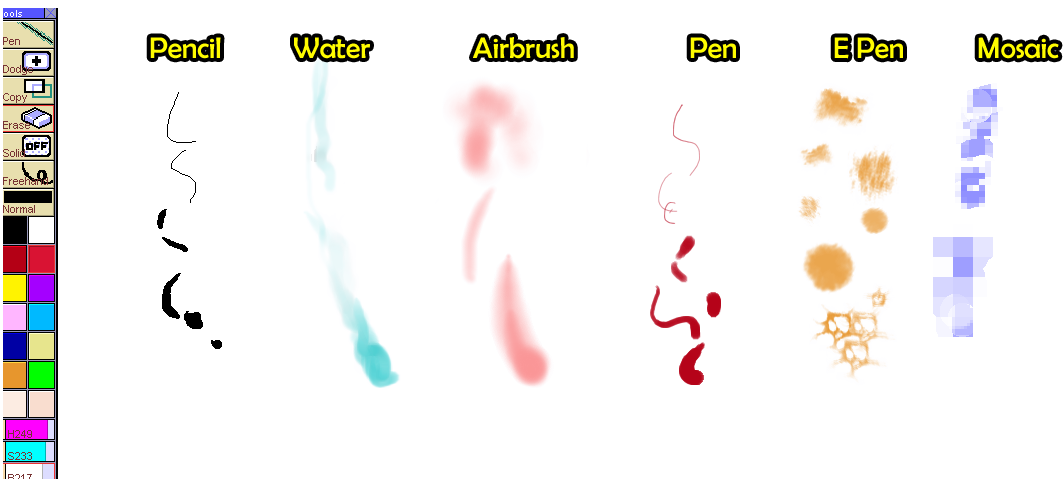 The standard Brush used in paintchat is the Pen or sometimes Pencil, while the Water and Airbrush are usually used for painting effects. The EPen is a texture type brush, while the Mosaic "pixelates" the image.
Each Bush has its own property and mark, so make sure to practice using each to get to know what you need!
These are the Dodge, Burn, Soft, Text, and Combine Tools!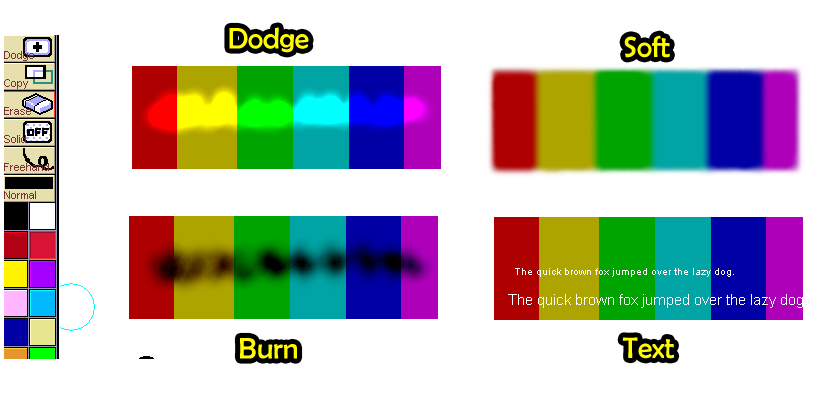 Tools III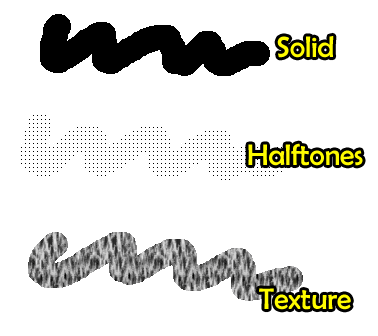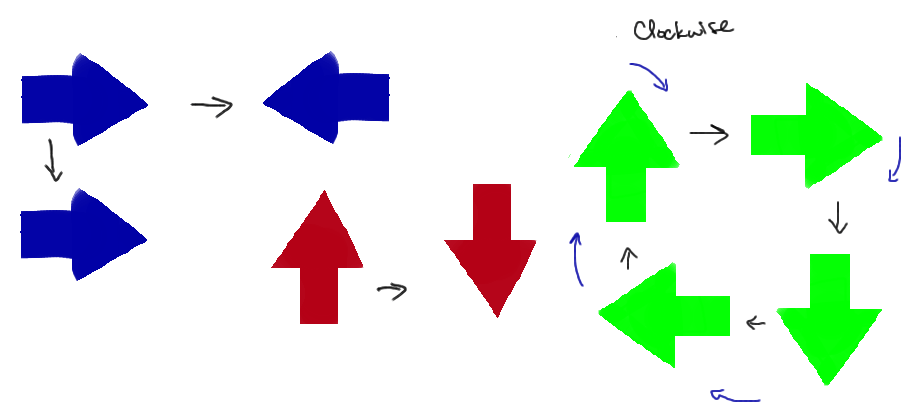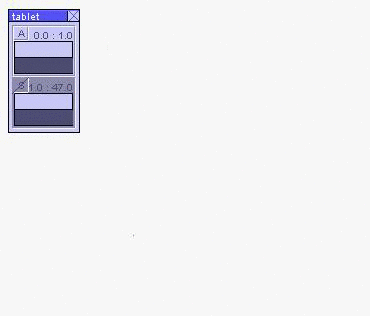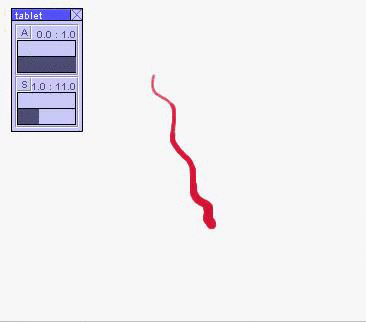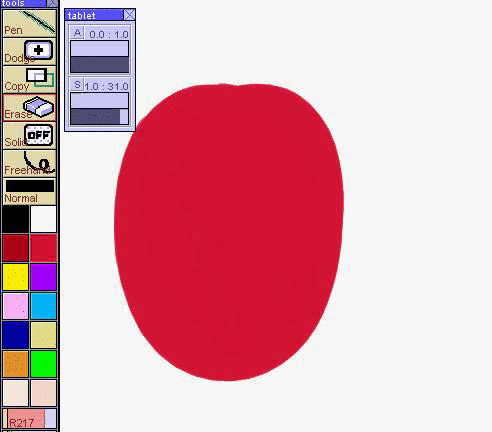 Eyebrow Game Too Damn Strong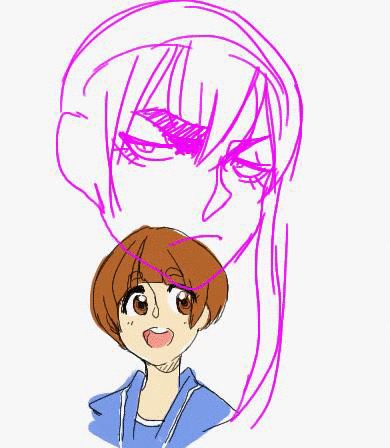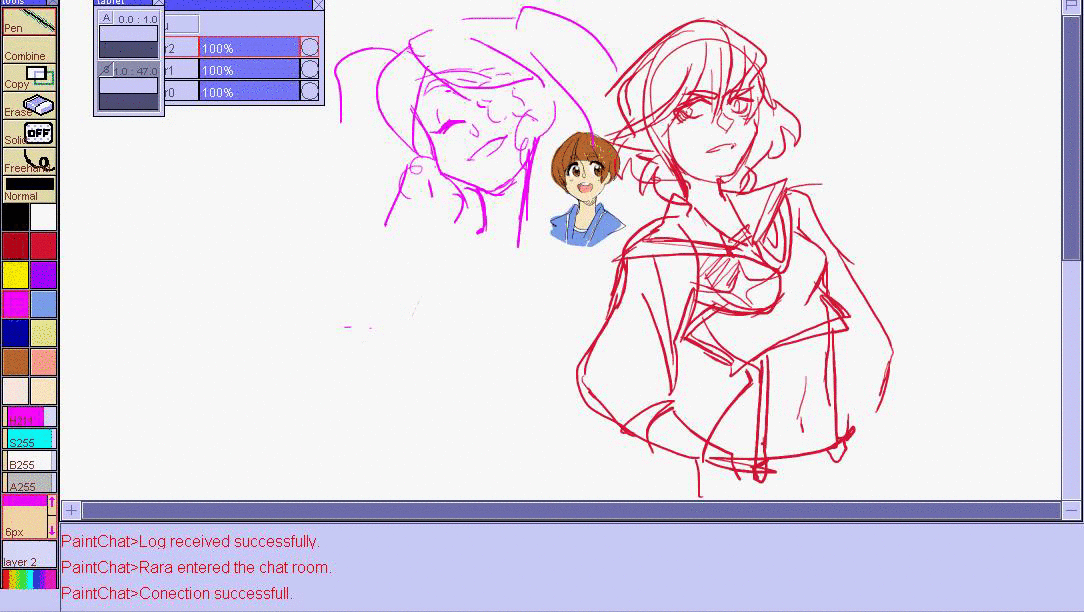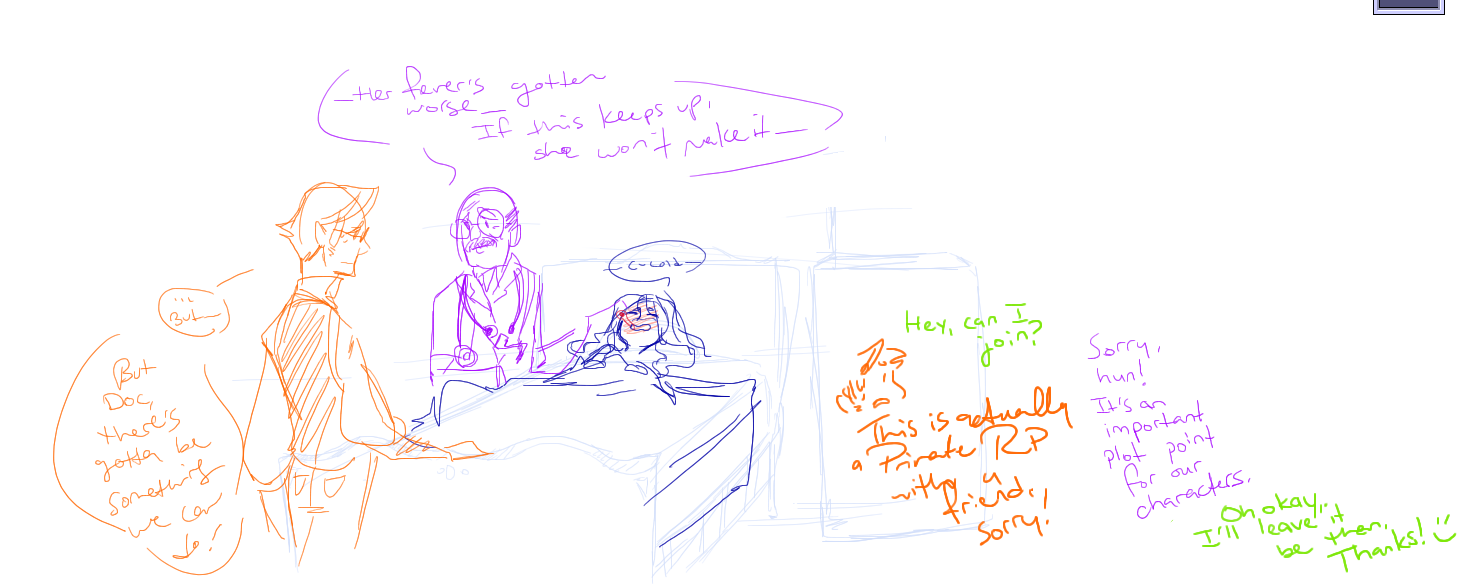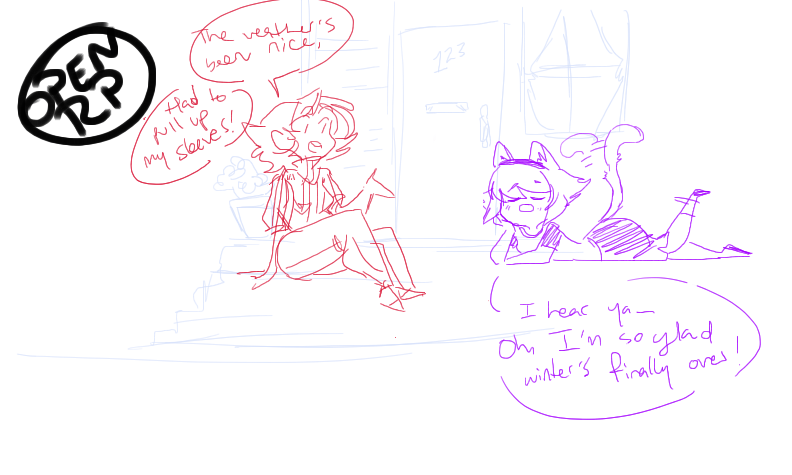 TESTING